---
Family Size Hertzoggie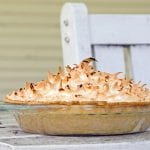 For the pastry:
60g butter, softened
1/4 cup Selati castor snow
1 egg yolk
1 cup cake flour
1 tsp baking powder
Pinch of salt
For the filling and topping:
340g apricot jam
4 egg whites
11/2 cups Castor snow
2 cups desiccated coconut
Preheat the oven to 160C.

Cream butter and sugar together and add the egg yolk, beating well to combine.

Add all the other ingredients – to form a stiff dough.

Press dough evenly into a greased loose bottomed fluted tart tin (28cm).

Spread the jam onto the pastry.

Whisk the egg whites until soft peak stage then gradually whisk in the castor sugar until thick and glossy.

Fold in the coconut and spoon on top of the jam.

Bake at 160˚C for 30 minutes or until golden brown.

Allow to cool in the tin before removing and dusting with icing sugar.