---
Ramadan Recipe: Black-Eyed Bean Salad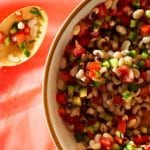 200g (1 cup) black-eyed beans, rinsed, soaked overnight
2 ripe tomatoes, seeded, finely chopped
2 Lebanese cucumbers, seeded, finely chopped
1 ed capsicum, chopped
1 spring onion, chopped
1 long green chilli, chopped
2 limes, juiced
Soak the black-eyed beans overnight.

Rinse soaked black-eyed beans under running water and drain.

Cook in a saucepan of boiling salted water for 30 minutes or until tender.

Drain and set aside to cool.

Toss remaining ingredients in a bowl with black-eyed beans.

Season well with salt and pepper, and serve.