Festive Beef Wellington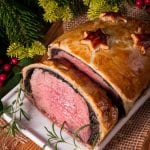 600g Beef fillet
Salt and pepper
Olive oil
2 Tbsp Dijon mustard
6 slices Parma ham
2 400g rolled puff pastry
1 egg, beaten
2 tbsp olive oil
1 onion, finely chopped
2 tbsp fresh thyme leaves
1/2 cup breadcrumbs
4 tbsp fruit mince
Season the beef generously with salt and pepper then a drizzle of olive oil.

Sear on all sides in a hot pan, then set aside to cool.

Make the stuffing by sautéing onions in olive oil until translucent.

Stir in the thyme, breadcrumbs and fruit mince then set aside to cool.

Lay a large piece of cling film on the work surface, then cover with a layer of Parma ham.

Spread the cooled stuffing over the Parma ham.

Brush the beef with mustard, then lay onto the stuffing.

Preheat oven to 180C

Roll the layers together to encase the beef, using the cling film to make a tight roll – tie the two ends then

refrigerate to set into a log shape.

Roll out the two sheets of puff pastry, then brush with egg wash.

Remove beef roll from the cling film then place onto the centre of the pastry (onto the egg washed side).

Top with the second pastry – egg washed side facing inward (touching the beef).

Cut off excess pastry around the edges, then transfer to a greased tray.

Crimp the pastry edge with a fork, brush the surface with egg wash to glaze.

Lightly score the surface of the pastry (be careful not to cut through the pastry and expose the meat).

Bake in the oven for 45 minutes or until the pastry is golden.

Remove from the oven and leave to rest for 15 minutes before carving.

Serve sliced with steamed broccoli.