---
Gluten-free Christmas Mince Pies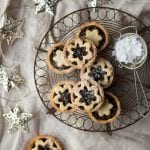 1 cup (150g) rice flour*
3/4 cup (90g) ground almonds
1/4 cup (35g)corn starch
1/4 cup (50g) Selati Castor Snow
1/2 tsp xanthan gum*
125g cold butter, cut into 1cm cubes
1 large egg, lightly beaten
Iced water, if needed
1 x 300g jar fruit mince
Egg wash, for brushing
Selati Icing Snow, for dusting
Preheat the oven to 180C and grease 2 x 12 hole non-stick muffin tins.

Place the rice flour, ground almonds, corn starch, castor sugar, xanthan gum and butter in a food processor and blend until the mixture resembles fine breadcrumbs.

Add the egg and process until the mixture comes together to form a soft dough – adding ice water if necessary.

Wrap the dough in cling wrap and refrigerate until firm.

Roll out on a surface dusting with a little corn starch until 5mm thick, cut out 5cm discs to fit the muffin tin and press the discs into the muffin tin holes. Roll out the leftover pastry again and cut out stars or snowflakes for the tops.

Fill each pastry case with fruit mince then place the pastry shapes on top.

Brush with egg wash and bake in the preheated oven for 15-20 minutes or until golden.

Allow to cool in the tin completely before lifting out and dusting with icing sugar.

*Find xanthan gum and rice flour at health stores or in the health aisle at large supermarkets.