---
Gold Oak-Smoked Trout Salad Wreath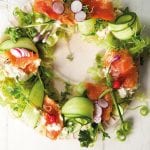 Ingredients
6 sticks celery
2 Woolworths Mediterranean cucumbers
1 x 75 g punnet Woolworths micro vegetables
6 radishes, thinly sliced
1 x 300 g side Woolworths oak-smoked trout with edible gold dusting 1 x 300 g side
Micro greens, to garnish
For the dressing:
4 tbsp Woolworths horseradish sauce
1 lemon, juiced
Preparation
Using a vegetable peeler, shave the celery and cucumber into ribbons, then place in iced water to curl.

Once the celery has curled, drain and transfer to a large serving platter and arrange in a circle with the cucumber ribbons to resemble a wreath.

Add the micro vegetables and radish and top with the gold trout.

Garnish with microgreens and drizzle over the dressing.