---
Strawberry, Ricotta and Ginger Cookie Tarts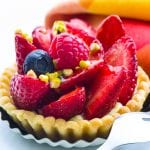 250g Ginger Cookies
100g butter, melted
250g ricotta cheese
250g mascarpone
1/2 cup icing sugar, sifted
1 vanilla bean, split lengthways
1 punnet strawberries, quartered
80g white chocolate
1/4 cup pistachios, finely chopped
Place the ginger cookies in a food processor until fine. Mix with melted butter and press into tart tins. Leave in the fridge for 15 minutes or until the tart base has set. Once set remove from tart mould.

To make the filling, put the ricotta in a food processor with the icing sugar and scrape in the vanilla seeds. Process until smooth and well combined. Combine ricotta mix with the mascarpone until smooth.

Spoon filling into the tart shells. Top with strawberries, drizzle with melted white chocolate, sprinkle with pistachios and finally dust icing sugar. Serve chilled.