---
Gorgonzola Cheesecake with White Chocolate Frosting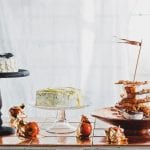 8 x 150 g Woolworths Italian Gorgonzola, at room temperature
160g White chocolate
1 cup Sour cream
Place the cheese in a mixing bowl and combine gently by mixing using a wooden spoon.

Fill a 22 cm spring-form cake tin with the mixed blue cheese and press down to compact into a cake shape. Place in the freezer to set for 1 hour.

While the cake is setting, place the white chocolate and sour cream in a bowl set over a pot of just-simmering water. Melt the white chocolate into the sour cream until perfectly smooth.

Remove the set Gorgonzola cake from the cake tin and place on a cake stand. Spread the frosting over the top of the cake and serve.
<script type="text/javascript">
amzn_assoc_placement = "adunit0";
amzn_assoc_search_bar = "true";
amzn_assoc_tracking_id = "dawebsite2017-20";
amzn_assoc_ad_mode = "manual";
amzn_assoc_ad_type = "smart";
amzn_assoc_marketplace = "amazon";
amzn_assoc_region = "US";
amzn_assoc_title = "My Amazon Picks";
amzn_assoc_asins = "B075XL2615,B0764M2JXY,1118338618,B079DMLK5J";
amzn_assoc_linkid = "6a937cc359a03211dac689dbd749f23a";
</script>
<script src="//z-na.amazon-adsystem.com/widgets/onejs?MarketPlace=US"></script>