---
Grilled Halloumi and Green Bean Salad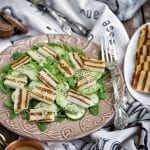 1/2 tsp dried chilli flakes
1 tsp cumin seeds, toasted
1 lemon, zested and juiced
2 tbsp white balsamic vinegar
1 tsp castor sugar
1/4 cup olive oil
200g halloumi, sliced
2 tbsp olive oil
200g green beans, blanched then halved lengthwise
Punnet cherry tomatoes, halved
1/2 cucumber, deseeded and julienned
2 tbsp toasted sesame seeds
Whisk together all the dressing ingredients then set aside.

Brush halloumi with olive oil then cook in a hot griddle pan until charred on both sides.

Remove halloumi from the heat then drizzle with 2 tablespoons of dressing.

Combine green beans, cherry tomatoes and cucumber in a bowl then add the dressing and toss well.

Place salad onto a serving plate then top with the halloumi.

Finish with a sprinkle of toasted sesame seeds.