---
Nori Omelette with Smoked Salmon, Avocado and Sprouts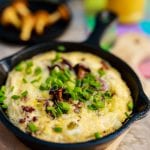 2 eggs, whisked well
2 tbsp finely shredded nori
1/4 cup low fat cream cheese
60g smoked salmon
1/4 avocado, sliced
1 tbsp toasted sesame seeds
A handful of bean sprouts
1 lime
Spray a non-stick pan with a little bit of spray and cook and place on a medium heat.

Add the nori to the eggs and pour in the whisked eggs. Spread the egg thinly around the pan and cook for 1 minute until it is set and starting to go golden. With a spatula, flip the egg and cook for a minute on the other side.

Place the omelette on a board and layer all the ingredients into the centre. Squeeze a little lime over everything.

Fold over the sides of the omelette to form a roll.

Garnish with some micro greens, a sprinkle of sesame seeds and a lime cheek. This dish can be served hot or cold for a delicious breakfast.