---
Grilled Peach and Nectarine Salad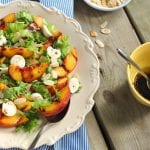 1/2 tsp salt
1/4 tsp fennel seeds
1/4 tsp chilli flakes
1/2 tsp finely grated lemon rind
1 tbsp olive oil
1 medium yellow peach, halved and stone removed
1 medium yellow nectarine, halved and stone removed
1 tsp caster sugar
50g baby rocket
4 Bocconcini balls
Salt and pepper
2 tbsp olive oil
1 tbsp white balsamic vinegar
1 tbsp lemon juice
Combine salt, fennel seeds, chilli flakes and lemon rind in a snap-lock bag. Pound with a rolling pin until finely ground and fragrant. Set aside. Or you can use your pestle and mortar.

Make Dressing Combine olive oil, vinegar and lemon juice in a bowl. Season with salt and pepper. Whisk to combine. Set aside.

Heat pan. Drizzle cut side of peach and nectarine with 1 tablespoon olive oil. Sprinkle cut side with sugar. Season with salt and pepper. Cook, cut-side down, for 3 minutes or until caramelized. Turn. Cook for 1 minute or until heated through. Transfer to a plate. Cut each half in half. Set aside.

Arrange rocket on a large plate. Tear each Bocconcini ball into 2 pieces. Top rocket with Bocconcini. Top with peach and nectarine pieces. Season with pepper. Whisk dressing and drizzle over salad. Sprinkle with spice mixture.