---
Sticky Thai Marinated Smoked Pork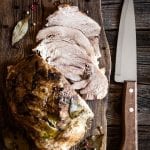 1 tbsp cumin seeds
1 tbsp coriander seeds
5 spring onions, roughly chopped
3cm sized piece of ginger, sliced
4 large cloves garlic, peeled
1 green chilli
30g fresh coriander, including stalks
2 TBSP Thai fish sauce
4 TBSP palm sugar
1/4 CUP Clover Krush Apple juice
2 kg pork shoulder, boneless
Toast cumin seeds in a dry pan then roughly crush in a pestle and mortar.

In a food processor, combine ground cumin and coriander, spring onion, ginger, garlic, chilli, coriander, fish sauce, palm sugar and apple juice. Blend until a fine paste.

Rub paste all over pork shoulder before leaving to marinade overnight or for at least 1 hour.

Light a wood fire in a kettle braai until very hot.

Move the hot wood coals to one side of the braai, then place the braai grid on top.

Place the marinated pork on the grid above the side where there are no coals.

Place the lid onto the braai, then leave to smoke for between 1 ½ – 2 hours.

You'll know the pork is done when the meat is tender – the internal temperature of the meat should be about 82̊C.

Serve pork either pulled apart or sliced on soft white buns, coleslaw and a sprinkling of fresh coriander.