---
---
This is an easy-to-follow recipe to make a delicious Holiday Rum Cake.
A dessert cake containing rum, and traditionally served during the Holiday Season.
Holiday Rum Cake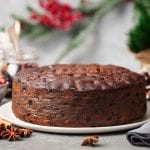 This is an easy-to-follow recipe to make a delicious Holiday Rum Cake.
1 lb. raisins (ground or chopped)
1 lb. prunes (ground or chopped)
1 lb. currants (ground or chopped)
1 teaspoon grated or ground nutmeg
Red Label Wine (or other red cooking wine)
Wray and Nephew Overproof Rum (or other white rum)
8 ounces butter
2 cups sugar
3 tablespoon browning
1 teaspoon cinnamon
1/2 teaspoon mixed spice for baking
1 teaspoon salt
3 teaspoon baking powder
3 cups baking flour
1 cup breadcrumbs
Finely grated rind of 1 lime (or small lemon)
12 eggs
2 teaspoon rose water
1/2 cup sherry or blackberry brandy
2 teaspoon vanilla
Sift together cinnamon, mixed spice, salt, baking powder, and flour.
Add breadcrumbs and lime rind, and mix in well.
Cream butter and sugar in a very large mixing bowl. Add browning.

Soak fruit in Rum. Add 4 cups of soaked fruit to cream mixture, stirring in with a large wooden spoon.

Beat eggs until light and frothy (10 to 15 minutes). Add rose water, sherry and vanilla.
Add egg mixture to butter mixture, fold in well.
Fold soaked fruit into this mixture.
Gradually fold in flour mixture.
Spoon Test: Test to see if the wooden spoon can stand upright in middle of the mixture. If not, add some more flour until the mixture can support the spoon.

Grease baking pans and line with grease paper. Grease and flour lined pans.

Place a pan of water in the bottom of the oven to ensure cakes do not dry out.

Pour mixture into tins and bake for 2 hours in a slow oven, 300F.
[amazon_link asins='B000GJQ5C2,B00K2SKT2E,B00FI262WU,B000YGOLR8,B06XQ7NYLJ,B00067ZEFS,B00WS3XLIU,B009SZ0XHI' template='ProductCarousel' store='dawebsite2017-20′ marketplace='US' link_id='477d0d1d-d3d2-11e7-9d8a-25ee00665986′]
---