---
Instant Fat-Free Mango Frozen Yoghurt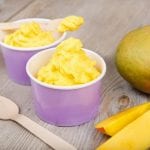 1 cup Clover Krush Mango juice
125g frozen mango chunks
1/2 cup fat-free yoghurt
Few drops vanilla
Chopped pistachios, for sprinkling
Pour the fruit juice into an ice tray and freeze until solid.

Place the mango chunks, frozen fruit juice, yoghurt and vanilla in a blender and blend until smooth and the consistency of soft serve. Serve immediately or place in the freezer to firm up.

Serve sprinkled with the chopped pistachios.