---
Peanut Butter Caramel Slices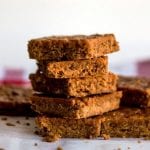 130g peanut butter (smooth or crunchy)
100g butter
1/2 tsp salt
1 tsp vanilla extract
3/4 cup desiccated coconut
3/4 cup Selati Demerara sugar
11/2 cups flour
125g butter
385g condensed milk
1/3 cup golden syrup
Pinch of salt
Preheat oven to 180 degrees C.

Grease and line a baking pan of about 20cm x 30cm with the baking paper hanging over the edges.

Make the cookie base: melt the butter and peanut butter.

Stir in the salt and vanilla extract.

Place coconut, sugar, flour in a bowl. Add the melted butter mixture and mix until well combined.

Press the mixture thinly into the bottom of the prepared tin.

Bake in the oven for 15 – 20 minutes until golden.

Make the caramel: melt the butter in a saucepan and add the condensed milk, golden syrup and salt.

Stir constantly over a low heat to avoid sticking and cook for about 5-7 minutes until the caramel has thickened and smooth.

Pour caramel mixture onto the baked cookie layer.

Bake in the oven for 20 to 25 minutes until the caramel is bubbly and a golden brown.

Remove from the oven. Cool for a couple of hours until firm and then slice and serve.