---
Jalapeno and Bacon Pretzel Bread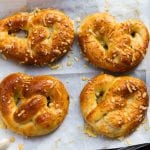 For the dough:
500g flour
10g packet instant yeast
1 Tbs sugar
2 tsp salt
4 Jalapeno's, chopped
1 pk bacon, chopped and cooked
50ml olive oil
±260 ml warm water
1 cup Cheddar, grated
Mix together flour, yeast, sugar, salt, jalapeno's and bacon

Mix in the olive oil, then add enough water to form a soft dough.

Knead until the dough is smooth and elastic.

Cover and leave to rise in a warm place until doubled in size.

Preheat oven to 200C.