---
Kai Sega Wot (Ethiopian spicy beef stew)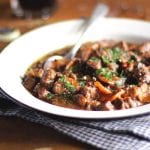 150ml Oil
560g Onions, chopped
80g Garlic, crushed
60g Berbere
Hot water
Pinch Salt
800g beef cubes
8g Cardamom
40g Kibe (Ethiopian Spice Butter)
Fry the onions in oil until soft, add garlic, fry a little longer.

Add Berbere, keep cooking continuously while adding hot water not to get it burned, and then let it cook for about 10-15 minutes

Add salt, and then beef cubes and cook well in the mixture by adding hot water every now and then for about 5 minutes or more.

Add more hot water to cook the beef till it is ready. The sauce should be thick and creamy in texture. Finally when it is ready add cardamom, Kibe and cook for another 2-3 minutes longer

It should be eaten with Injera, when Injera is not available substitute with chapatti, Nan, brown bread or rice

Injera is available for purchase at almost all Ethiopian Food shops.