---
Individual Blueberry Baked Alaska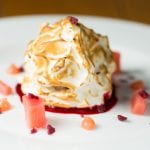 1 roll ready-made puff pastry
500ml vanilla ice cream
200g fresh blueberries
60ml brown sugar
4 egg whites
Pinch of salt
225g castor sugar
5ml white wine vinegar
5ml vanilla extract
Cook Blueberries and 50ml brown sugar in a sauce pan until cooked down "jammy". Allow to cool.

Stir Blueberries into vanilla ice cream, creating a marbled effect. Freeze for an hour.

Pre heat oven to 200⁰C

Cut 6 x 5cm circles of puff pastry with a cookie cutter. Arrange on a baking tray. Sprinkle with remaining brown sugar.

Bake for 10 to 12 minutes until golden. Allow to cool.

Whisk egg whites and salt until stiff.

Gradually whisk castor sugar into eggs, a tablespoon at a time until thick and glossy.

Whisk in the vinegar and vanilla extract. Set aside.

Place a scoop of ice cream on each pastry circle.

Cover each scoop of ice cream with meringue, making sure to leave no uncovered ice cream.

Freeze until needed. (up to 2 days)

To bake: place in a preheated oven (220⁰C) for 8 to 10 minutes until meringue is golden.

Serve immediately.