---
Kedgeree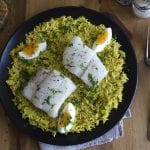 For the haddock:
400g smoked haddock fillet
1 cup milk
1 cup water
1 bay leaf
1 tsp peppercorns
For the rice:
2 tbs olive oil
1 tsp black mustard seeds
1 onion, sliced
2 tbs ginger&garlic paste
2 tbs mild curry powder
2 cups cooked basmati rice
1 lemon, juiced
2 tbs chopped coriander
To serve:
4 soft-poached eggs
1 red chilli, sliced
Handful fresh coriander
Lemon wedges
Place the haddock into a shallow pan, cover with milk then add the bay leaf and peppercorns. Place on the heat, then bring to the boil then simmer for 5 minutes.

Heat the olive oil in another pan, then add the mustard seeds and wait until they begin to pop.

Add the onions and saute until softened.

Add the garlic & ginger paste and curry powder, then cook for two minutes.

Add the rice and lemon juice, then stir to coat the rice in the spices, leave on a gentle heat for a few minutes to heat through.

Flake the fish into large pieces (discard the milk), then gently fold into the rice along with the chopped coriander.

Serve the kedgeree in individual bowls topped with a poached eggs, sliced chilli, coriander and lemon wedges.

Chef's tip: Use the milk that the haddock poached in to make sauce for fish pie.