---
Sriracha and Lime Hot Smoked Salmon Noodle Salad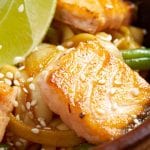 300g Easy to wok fresh egg noodles
2 tbs Sesame oil
200g Mange tout, halved
2 Red pepper, thinly sliced
2 thinly sliced Orange pepper
4 Spring onion, thinly sliced
1/2 cup Fresh basil leaves, torn
2 tbs Sesame seeds, toasted
400g Sriracha and Lime hot smoked salmon
Dressing:
2 cloves Garlic, crushed
2 tablespoons Lime juice
2 tablespoons Fish sauce
2 tablespoons Soya sauce
1 tablespoon Brown sugar
4 tablespoons Sesame oil
To make the dressing, mix all the ingredients together in a small bowl.

Toss the noodles with the sesame oil.

Cook the mange tout in boiling water for 2 minutes.

Drain then add to the noodles along with the peppers, spring onion, basil and sesame seeds.

Break the salmon into pieces and gently combine with the noodles.

Pour the dressing over the salad and toss well to coat.

Garnish with micro herbs.