---
Lavender cookies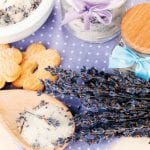 360g butter, softened
500g castor sugar
4 eggs
Drop lavender oil
700g cake flour
10ml baking powder
2.5ml salt
1 Tbsp dried lavender, crushed
In a large bowl, cream the butter and sugar together. Beat in the eggs one at a time and add the lavender oil.

Slowly add in the flour, baking powder, salt and lavender then mix to form a soft dough. Cover and chill for one hour.

Preheat the oven to 180°C and line baking trays.

Roll out the dough on a floured surface to about 3mm thick.

Cut into elegant plain round cookie shapes then place the cookies onto a baking tray.

Bake the cookies in the preheated oven for 6 to 8 minutes, or until just golden brown

Cool on a wire rack.