---
Loukoumades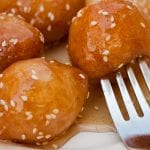 3 cups cake flour
10g instant dry yeast
1 tsp sugar
1 tsp salt
1 tsp whiskey or brandy
1 egg
11/2 cups lukewarm water
Oil for frying
2 cups sugar
1 stick cinnamon
1 cup water
1/2 cup honey
2 cups finely ground walnuts
1/2 cup icing sugar
1 tbsp ground cinnamon
In a large mixing bowl mix together the flour, yeast, sugar, and salt.

Whisk together the whiskey and egg then add to the dry ingredients.

Mix in the warm water to form a thick batter – mix until there are no lumps and the batter is smooth.

Cover and leave to rise until double in size.

Meanwhile, prepare the syrup by combining the sugar, cinnamon stick, water and honey in a saucepan. Simmer gently while stirring until sugar dissolves, then bring to the boil for 5 minutes.

Remove from the heat and set aside.

Heat oil to about 170̊C.

Using two spoons, carefully drop a generous teaspoon full of batter for each puff into the hot oil. Turn the puffs using a slotted spoon and fry until golden brown on each side.

Drain on kitchen paper then dip the hot puffs in the warm syrup before placing on a serving platter.

Combine the walnuts, icing sugar and cinnamon then sprinkle over the puffs.

Serve immediately.