---
Panettone Con Gelato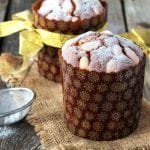 1 standard size Panettone
100g almond liquor (Amaretto)***
200g sugar syrup (100g sugar +100g water)
2 liter vanilla ice cream, softened
200g dark chocolate (70%), chopped
100g slivered almonds, toasted
Icing sugar to dust
200g cream
50g milk
150g dark chocolate (70%), chopped
Cut the cap off the Panettone then carefully remove the center in one whole piece.

Slice the center piece into rings.

Mix together the Amaretto and sugar syrup then use to brush the ring layers, the inside and the cap of the Panettone.

Mix together the vanilla ice cream, the chopped chocolate and the almonds.

Layer the ice cream and the cake slices inside the hollowed out Panettone

Cover with the cap and freeze.

To make the chocolate sauce, heat together milk and cream then add the chopped chocolate and stir until melted.

Dust the frozen Panettone with icing sugar then cut and serve drizzled with hot chocolate sauce.

***For an alcohol-free version, replace Amaretto Syrup with:

• 150g sugar

• 150g water

• Almond essence

• Cinnamon stick

Boil together water and sugar then add almond essence and cinnamon stick to infuse.