---
Masala Baked Snoek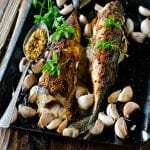 1 kg fresh snoek, butterflied
1 tsp hot mixed masala
2 tbsp lemon juice
1 tbsp canola oil
1 tbsp melted butter
21 tsp ginger and garlic paste
Salt to taste
Preheat the oven to 180°C

Mix the masala, lemon juice, melted butter, ginger and garlic and half the oil together to form a paste

Brush a large piece of foil with half the oil. Place the fish, skin down on the foil in an oven dish or tray.

Bake for 20 minutes.

Serve with a fresh salad and roasted sweet potato wedges.