---
Gingerbread Train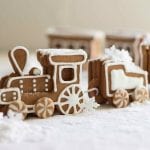 125g butter, softened
90g Selati Muscovado sugar
230g golden syrup
375g flour
2 tsp ground ginger
1 tsp mixed spice
1 tsp bicarbonate of soda
Royal icing
1 egg white, beaten
2 cups icing sugar, sifted
Squeeze of lemon juice
Preheat the oven to 180C.

Cream the butter and sugar well until very pale and fluffy.

Add the syrup, flour, spices and bicarb and mix until a smooth dough forms.

Roll the dough out on a floured surface or between two sheets of baking paper until 4mm thick. Refrigerate for 30 minutes if too soft.

Using train cookie cutters, cut out the shapes and place on a lined baking sheet.

Bake in the preheated oven for 8-10 minutes or until golden and crisp. Allow to cool completely.

To make the royal icing, whisk the egg white gently then add the icing sugar until a stiff paste forms. Add the lemon juice and stir before placing in a piping bag.

Ice the biscuits with the royal icing, using sweets to decorate if desired.

Store in an airtight container.