---
---
Naija Bean Cake is a protein-rich food (the traditional name is Moi Moi) from West Africa.
It's called Naija Bean… WHAT?!
Ok, so the traditional name for this is Moi Moi, but we wanted to create a name designed to easily inform what Moi Moi is and to communicate the region of this staple food: Nigeria!
Moi Moi is a protein-rich food originating from West Africa.  This steamed bean pudding made from black-eyed peas, onions, ground peppers is excellent when served with Pan-fried Mackerel.
When cooked correctly this bean cake should be soft delicate and melt away in your mouth. The palm oil is crucial to this recipe as it gives each Naija Bean Cake that distinct color and flavor.
Moi Moi (Bean Cake)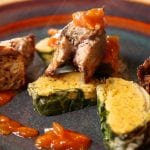 Follow this recipe for Naija Bean Cake (Moi Moi) with Fried Mackerel, a dish inspired by culture of Nigeria.
Moi Moi (Bean Cake) Ingredients
2 cups Black Eyed Beans (soaked & rinsed)
6 cups Vegetable Stock
1 Onion (cubed)
1 Habanero Chili
Salt and ground white pepper to taste
4 tbsp Palm Oil
2 tbsp Olive Oil
1 Maggi Stock Cube / regular stock cube
4 Spinach Leaves
Pan-fried Mackerel Ingredients
2 Mackerel Fish (filleted)
6 tbsp Vegetable oil
8 tbsp Seafood Food Rub ((store bought))
Salt & Pepper
Half lemon
Moi Moi (Bean Cake) Instructions
In a large bowl, combine the beans, stock, onion & habanero.
Blend till smooth pouring consistency is reached.
Add Palm Oil, olive oil & stock cube.
Season with salt & pepper to taste.
Line the bottom of four sandwich bags with one spinach leaf each.
Pour equal amounts of the bean puree and seal the bag tightly.
In a large pot of simmering water poach the bean puree for 35 minutes.
Gently open the bag and serve while hot.
Pan-fried Mackerel Instructions
Heat a large nonstick heavy based frying pan.
While pan is reaching temperature, coat the whole fillets evenly with the spice rub.
With the skin side down, seal fillets in pan for four minutes till skin is golden brown.
Turn the fillets and pan fry further for three minutes.
Season with salt and pepper to taste.
Carefully debone.
Squeeze the lemon juice evenly over the fish portion, plate with the moi moi and serve.
---