---
---
Learn how to make a mouth watering, sweet and savory braised pork belly dish that will be the perfect centerpiece to your next dinner party!
As a dish truly inspired by South Africa, Crispy Braised Pork Belly can be rich with flavor and texture. Some think of pork belly as a cheaper cut of meat, but just because it's inexpensive doesn't mean it can't be the savory centerpiece needed for your next dinner party or event. When you infuse mild fruity flavors by adding a mix of slow-simmered apple and pears, Crispy Pork Belly becomes a gold-medal entrée every time.
Crispy Braised Pork Belly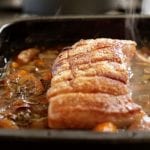 Follow this recipe for Crispy Braised Pork Belly, a wonderfully textured and flavored entrée.
1.5 lbs Pork Belly
6 cups vegetable Stock
2 carrots (large cubes)
1 onion (quartered)
1 celery stick (washed & chopped)
1 leek (cleaned & quartered)
7 tbsp Soya sauce
2 sprigs rosemary
2 sprigs thyme
2 tbsp coarse salt
3 cloves garlic
1 tbsp lemon oil
Preheat the oven to 390 degrees Fahrenheit.
Lay the belly fat side up, score through the fat, rub in the coarse salt. Set aside for ten min.
In a large pot, sweat the onions, celery, leeks, carrots, garlic and herbs. Add the vegetable stock and soya sauce.
Allow to simmer for ten min. in a large frying pan on low to medium heat.
Add the lemon oil and lie the belly fat side down.
Render the fat slowly for ten min. until hard and crispy.
Remove the belly and lie it on a baking tray, fat side up.
Add the braising liquid along with the vegetables and herbs to the baking tray.
Roast in the oven for 1hr. until meat is soft and delicate. Add more braising liquid if necessary.
Keep the remaining liquid for the cider jus.
---