---
Orange and ginger cheesecake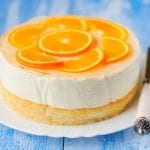 350g ginger biscuits
80g butter, melted
800g cream cheese, room temperature
200g sour cream, room temperature
180g castor sugar
4 eggs
Zest and juice of 1 orange, grated finely
1 CUP sugar
1/2 CUP water
2 TBSP fresh grated ginger
4 oranges, peeled and segmented
Place ginger biscuits into a food processor and pulse until fine.

Mix in the butter, then press into a 20cm spring form tin (only the bottom of the tin – not up the sides).

Refrigerate while making the filling.

Preheat oven to 100C.

In a bowl, mix together the cream cheese, sour cream, sugar, eggs, orange zest and juice until smooth then pour onto the crust.

Bake for about 1 hour 20 minutes or until the cheesecake is set and the middle is still slightly wobbly.

Cool completely at room temperature, before refrigerating until completely set.

For the topping, gently heat together sugar and water until dissolved.

Bring to the boil, then leave to simmer for 3 minutes.

Remove from the heat, then add the ginger and oranges and leave to cool completely.

Unmould the cheesecake then arrange the oranges on top.