---
Pan Fried Chicken with Chili Coconut Sauce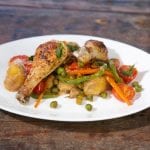 6 mixed chicken pieces
2 large plantain bananas
1 cup coconut milk
1 cup chicken stock
2 carrots, 1 chopped, 1 sliced
2 green peppers, sliced
2 red onions, quartered
1/2 cup peas
4 fresh chilies, whole
1 cup Rosa tomatoes
1/4 cup chilled butter
2 cloves garlic, minced
2 sprigs rosemary
6 tbsp oil
In a large skillet, heat 4 tbsp oil to medium temperature and sauté the onions, followed by cubed carrots, garlic and rosemary.

Season with salt & pepper.

With a knife, peel the plantain banana and cut into thirds. Pierce a few holes along the banana to allow it to absorb liquid.

Add the banana pieces, followed by half of the chicken stock, milk and whole chilies.

Cover the pot with the lid and allow the liquid to boil.

Once liquid has boiled, reduce the heat to medium temperature and simmer till liquid has reduced by half.

Add the remaining liquid and reduce till sauce consistency is reached.

In a large pan over high heat add 2 tbsp oil.

Brown the chicken with the skin side down and season with salt & pepper.

Rotate chicken until all sides are golden crispy.

Once chicken is halfway cooked, add knobs of butter for flavor and cook till tender.

Remove the chicken and set aside on a wooden board.

In the same pan, sauté the green peppers and carrots, followed by your tomatoes and peas for 5 minutes or until tender.

Season to taste.