---
Pan Seared Kake, Apple Beurre Blanc and Crispy Potatoes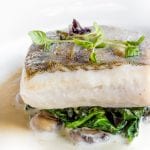 2x200g hake fillets, skin on
Salt and pepper
2 tbsp Olive oil
2 sprigs fresh Rosemary
2 tbsp butter
150ml apple juice
1 sprig rosemary
3 peppercorns, coarsely crushed
200g cold diced butter
Salt and pepper
1 potato
Oil for frying
Salt
Season the hake with salt and pepper.

Place olive oil and rosemary in a pan then heat to infuse.

Add the hake, then pan fry until golden on the skin side before turning over to cook on the other side.

Once fish is cooked through, remove pan from the heat, add the butter and leave to melt in the pan with the fish.

In a pot, add apple juice, rosemary and peppercorns then reduce by half.

Whisk the cold butter into the sauce to forma n emulsion for the sauce, season with salt to taste.

Slice the potato into matchsticks, then dry very well with a tea towel.

Deep fry in hot oil until golden and crispy.

To serve, baste the fish with the buttery juices, then place onto a serving bowl, spoon over a generous amount of sauce – discarding the rosemary.

Top with crispy potato matchsticks.