---
Salted Caramel Cake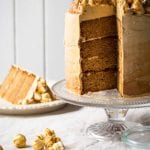 260g butter, softened
100g golden syrup
200g Selati Demerara sugar
1 tsp vanilla extract
3 large eggs
250g cake flour
2 tsp (10ml) baking powder
60g malted milk powder (Horlicks)
40ml milk
120g Selati Plantation Select sugar
1/2 cup (125ml) water
3/4 cup (180ml) cream
250g butter, softened
200g (1/2 tin) tinned caramel or dulce de leche spread
Sea salt flakes, for sprinkling
Caramel popcorn, to serve (optional)
Preheat the oven to 160 degrees celcius.

Line the bottoms of 2 x 15cm springform cake tins and set aside.

Cream together the butter, syrup and brown sugar until very light and creamy (about 8-10 minutes).

Beat in the vanilla and the eggs, one at a time, mixing well between each addition.

Sift in the cake flour, baking powder and milk powder and fold together, adding the milk to form a thick batter.

Divide the batter between the two cake tins and spread evenly. Bake for 1 hour and 15 minutes or until a skewer

inserted into the middle comes out clean and the cake has pulled away from the sides.

Remove from the oven and allow to cool completely, upside down, on a cooling rack.

To make the buttercream, place the sugar and water in a pan and heat gently until the sugar is dissolved.

Bring to the boil and simmer, without stirring, until the mixture begins caramelising.

Once the syrup reaches a toffee-colour, pour in the cream and swirl to combine.

Allow to cool completely.

Cream the butter until very white and fluffy (about 8-10 minutes) then add the toffee sauce and whip to combine.

To assemble, slice each cake in half to create 4 layers.

Spread the first layer with tinned caramel then a layer of buttercream and top with the next cake layer. Continue until 4 layers are formed.

Frost the entire cake using the buttercream (I used some tinned caramel along the bottom of the cake to achieve an ombre affect).

Place the remaining buttercream in a piping bag (to create a swirled effect, simply smear stripes of caramel in the piping bag before adding the buttercream) then pipe blobs onto the top of the cake.

Place in the refrigerator to set.

To serve, sprinkle with sea salt flakes and top with caramel popcorn (if desired).

TIP: To make a 25cm cake with 4 layers, double the recipe above.