---
Paprika Chicken livers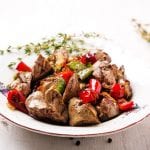 1 Container (500g) Chicken Livers, cleaned and defrosted
15ml Butter, melted
Pinch of salt
Ground Pepper to taste
1 Onion chopped, roughly
5ml Crushed Garlic
15 ml Butter
5ml Paprika
2ml Chilli Powder
2ml Chicken Stock Powder
15ml Tomato Paste
1 Bay Leaf
100ml Dry White Wine
100ml Cream
15ml Cake Flour
100ml Water
Preheat oven to 180°C.

Mix together livers, butter, salt and pepper in a small oven proof bowl and bake for 20 minutes or until slightly browned.

Sauté onion and garlic together, slowly in the butter until soft.

Mix the paprika, chilli powder, stock powder, tomato paste, bay leaf, and wine together and allow to simmer for 3 minutes.

Mix together the cream, cake flour, and water, and add to the paprika mixture.

Allow to simmer until the sauce thickens.

Add the chicken livers and simmer for a further 8-10 minutes.