---
Baked Fish with Squashed Tomato Parcels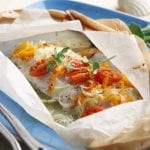 800g hake fillets
200g Exotic tomatoes, roughly chopped
4 cloves garlic, crushed
4 tbsp olive oil
1 cup basil leaves
1 bulbs fennel
Sea salt and milled pepper, to taste ( )
2 fresh lemons, quartered
Preheat the oven to 180°C.

Tear four sheets of baking paper into 60 cm pieces and fold in half.

Place 1 hake fillet in the centre of each sheet and divide the squashed cherry tomatoes, garlic, olive oil, basil and fennel between them.

Season to taste and fold in the sides of the paper, then fold over to seal the parcels.

Bake on an oven tray for 10 to 15 minutes until cooked through, but succulent. Serve hot with bulgar wheat and steamed veg.