---
Peach Salad with Mozzarella, Almonds and Prosciutto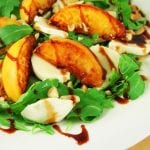 1/4 cup lemon juice
2 tbsp Dijon mustard
salt, pepper and sugar to season
1/4 cup olive oil
200g proscuitto or parma ham
100g almonds, coarsely chopped
ripe peaches, halved and stoned
4 balls of burrata (fiore di latte mozzarella)
large handful of rocket
Whisk lemon juice and mustard together.

Add seasoning and sugar and gradually whisk in the oil. Set aside.

Fry the Proscuitto until crisp then stir in the almonds and cook until golden.

Remove with a slotted spoon and drain on paper towel.

Discard all but a thin coating of fat from the pan.
Return to medium heat, season the peaches and cook in two batches, cut side down first until browned.

Place the rocket on a platter.
Add the peaches, proscuitto and almonds and tear the burrata and scatter on top. Drizzle with the vinaigrette.