---
Cinnamon Smoked Bananas with Salted Caramel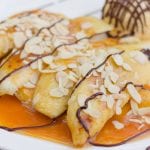 1 cup sugar
8 cinnamon sticks
1 cup rice
4 large bananas, peeled and cut in half lengthways
1 cup caster sugar
600g butter
150ml cream
Half teaspoon coarse salt
Good quality vanilla bean ice cream
Flaked almonds for sprinkling
Set up smoking by adding sugar, rice and cinnamon sticks to a foil lined pot or wok.

Place a perforated baking sheet or tray over the wok/pot and put bananas in.

Switch on your gas hob or electric oven plate and wait until the smoking mixture starts to smoke.

When smoke starts, smoke for at least 15-20 minutes with a lid on the bananas – this will give you a good intense cinnamon flavor.

Make salted caramel by melting the sugar until golden brown, do not stir at all, swirl the pan around to

combine the caramel bits.

Once the caramel is thick and golden, take it off the heat and drop the butter into the warm caramel. Stir it

gently to combine, it will bubble.

Once the butter is incorporated, slowly stir in the cream and stir until completely incorporated. A few lumps

might form, but just stir!

Sprinkle salt over caramel and give one last stir.

Serve bananas with a generous scoop of ice cream and drizzle with caramel and top with flaked almonds.