---
Pecan Nut Sticky Buns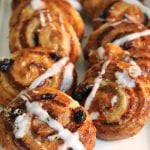 500g Cake Flour
5g Salt
50g Castor sugar
25g Fresh yeast
2 Eggs
250ml Clover Krush Mango juice
125g Butter
125g brown sugar
75g soft butter
100g chopped pecans
25ml ground cinnamon
165g Icing sugar
50g Crème fraiche
120ml Mango juice
Dissolve the yeast in the warmed Clover Krush Mango juice.

Place cake flour, salt and castor sugar into a mixing bowl and mix through.

In a separate bowl, whisk the eggs and juice/yeast together and add into the dry ingredients. Continue mixing to achieve a soft pliable dough. (about 10 mins).

Mix in 125g softened butter a little at a time to obtain a glossy mixture.

Cover the dough with cling wrap and leave to rise in the fridge overnight or in a warm place for a few hours until doubled in bulk.

Knock back. On a lightly floured surface, roll out into a rectangle of about 5mm thickness. Mix brown sugar, 75g soft butter, chopped pecans and ground cinnamon to make cinnamon pecan filling then spread onto dough. Roll up tightly along the long end (Swiss roll style).Slice into even-sized pieces and pack face up onto a paper-lined Swiss roll tin or into a well-greased muffin tray.

Prove and then bake at 200C for 10-15 mins or until deep golden brown.

For the glaze: Place the mango juice into a saucepan and bring to the boil over a medium heat. Boil to reduce to about 45ml. leave to cool. Place the sifted icing sugar in a bowl and add the crème fraiche and cooled mango juice. Mix well until smooth.

Brush buns with the glaze while still warm.