---
Pickled Fish Hush Puppies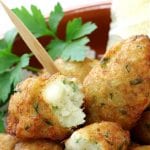 2 cups cake flour
1 tsp baking powder
1/2 tsp bicarbonate of soda
1 tsp salt
1 egg
1 cup buttermilk
1 cup pickled fish, liquid drained then fish flaked
Sunflower oil for frying
For the dipping sauce:
1/2 cup mayonnaise
4 Tbs pickled fish liquid
2 Tbs fresh coriander
Mix together the flour, baking powder, bicarb and salt.

Whisk together egg and buttermilk then mix enough into the dry ingredients to form a thick batter.

Fold in the pickled fish.

Heat oil and then drop spoonfuls of mixture into the oil and fry until browned.

Drain on kitchen paper to remove excess oil.

Mix together the mayonnaise, pickled fish liquid and coriander and serve alongside the hushpuppies.