---
Slow Roasted Lamb with Beetroot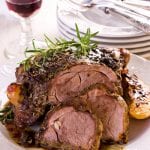 2kg lamb leg
1 onion, peeled and chopped
3 garlic cloves
1 chilli
3 Tbs cumin seeds
15g fresh mint
30g fresh parsley
1 lemon, zested
Salt and pepper to taste
500ml Clover Krush Apple juice
700g baby beetroot, peeled
Preheat oven to 200C.

In a food processor, combine onion, garlic, cumin seeds, mint, parsley, lemon zest, salt and pepper. Add just enough apple juice to blend to a smooth paste.

Place the lamb into a roasting tin, then spread the marinade all over the surface of the lamb.

Place the beetroot in the roasting tray around the lamb, then pour in the remaining apple juice.

Place into the oven and roast for 30 minutes, then turn down the heat to 160C and roast for a further 2 hours.

Remove from the oven, cover with foil and leave to rest for 30 minutes before slicing and serving.

Serve with chargrilled courgettes.