---
---
We can go ahead and call this the South African grilled cheese. This uber soft loaf of bread is the ultimate side dish for bold braai barbecue! Go ahead and tear a little piece off for yourself and share with a friend!
Pull-Apart Braaibroodjie Loaf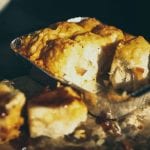 For the bread dough:
2 ¼ Cups Sifted bread flour (plus extra for dusting)
¼ Cup Warm water
¼ Cup Warm milk
1 Tbsp White sugar
½ Tbsp Unsalted butter
¾ tsp Active dry yeast
1 tsp Sea salt
2 Tbsp Olive oil
¼ Finely chopped white onion
1 Clove garlic (minced)
90 g Grated cheese (cheddar, gouda or mozzarella will do)
1 Large tomato (chopped)
Sea salt & ground black pepper (to taste)
Chutney (to serve)
Method:
Place water into a bowl and add sugar and yeast. Stir to mix and allow to sit for 10 minutes.
Using a stand mixture with a dough hook attachment, combine the yeast mixture, butter, warm milk, salt and half of the flour. Begin to knead for 1-2 minutes then gradually add the rest of the flour while the mixer is still turning. Add a bit more flour if needed but what you are looking for is a smooth, slightly stick dough. After kneading for 7-10 minutes, your dough should be sticking to the bottom of the bowl but not to the sides of the bowl.
In a separate bowl, add olive oil, minced garlic and origanum. Cut dough into 2.5cm pieces and dip into oil mixture. Place into a lightly greased aluminium tin oven tray. Repeat until all of the dough is complete.
Cover with a dishcloth and allow to rise for 45 minutes- 1 hours.
Prep your braai and in the meantime, stuff the tomatoes and onion into the crevices of the dough. Top with grated cheese and season with salt and pepper.
Cover with tinfoil and pop onto the braai for 15 minutes. Remove the foil lid and place back onto the braai for a further 15-20 minutes.
Tear a small piece of bread off to make sure it is baked through. Serve hot or cold with chutney.
---