---
---
This raw salad is economically sound as it requires no electricity nor gas to prepare. It's wonderful for your gut health too! It's packed with essential vitamins and nutrients.
Raw Satay Vegan Noodles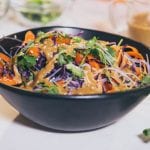 (Serves 2)
Ingredients:
1-2 Carrots
1-2 Spring Onion (sliced)
1 ⁄2 Packet Vermicelli (rice noodles)
¼ Red Cabbage (finely sliced)
¼ Cup Edamame Beans
1 Tbsp Sesame Seeds (toasted)
Handful Fresh Coriander
Satay sauce:
2 Tbsp Peanut Butter
1 Tbsp Sweet Chili Sauce
1 Tbsp Coconut Milk or Water
1 Tbsp Soy Sauce
Method:
Place the vermicelli into a bowl and cover with water, allow the noodles to stand for 15-20 minutes and then drain the water from the noodles once they are soft.
Using a vegetable peeler, cut the carrots into thin ribbon strips. Place the carrot ribbons, spring onion, vermicelli, cabbage, edamame beans and coriander into a serving bowl.
Add the satay sauce and toss well to coat all the ingredients, then top with toasted sesame seeds.
Sauce Method:
Place all the ingredients into a measuring jug and whisk until all the ingredients are combined
Recipe by Nicole Snelling
---