---
Quinoa Salad with Beetroot and Mango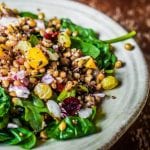 2 cups cooked red quinoa
4 medium-size, roasted beetroot
1 mango
21/2 cups rocket, torn into pieces
1 cup beet greens, middle rib removed and torn into pieces (use spinach or rocket if not available)
1/4 cup basil leaves, torn into pieces
1/4 cup pistachios, toasted
1/2 cup goat's cheese
1 tsp Dijon mustard
1/4 cup Clover Krush Mango juice
1 tbsp white balsamic vinegar
1/4 cup good-quality olive oil
1 tbsp chopped fresh flat-leaf parsley
Flaky salt and pepper
Cook the quinoa in boiling water following package directions.

Cut the beetroot and mango into bite-sized pieces.

Whisk the mustard, orange juice and vinegar together in a small bowl.

Slowly add olive oil to create an emulsion.

Stir in the parsley and season with salt and pepper.

To assemble the salad:

Place the cooked quinoa into a large bowl.

Toss with rocket, beet greens, basil and mango pieces.

Mix Dijon mustard, Clover Krush Mango juice, white balsamic vinegar, olive oil, parsley, salt and pepper to make dressing.

Carefully fold in the dressing. There might be some leftover, depending on how much you want to add to the salad. (Remember that you can add dressing but you cannot remove it)

Carefully toss in the beetroot

Top with pistachios and a crumbling of goat's cheese.