---
Moroccan Spiced Lamb Shank with Apricots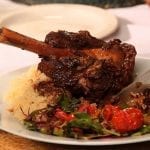 4*350g lamb shank
3 cups red wine
3 cups vegetable stock
2 onions, quartered
1 celery stalk, chopped
2 leeks, chopped
3 carrots, quartered
6 tbs vegetable oil
10.5 oz dried apricots
4 cloves whole garlic
2 tbs ground cumin
2 tbs ground black pepper
2 tbs chilli flakes
2 tbs ground coriander
2 tns salt
2 sprigs picked rosemary
Serves: 4

Prep Time: 15 min

Marinade Time: 10 min

Cook Time: 110 min

Mix all the spices and salt to create the Moroccan spice rub. Rub the mixed spices on the lamb shank till well coated. Set aside for 10 min.

Heat 4 tablespoons of oil in a large, deep pot. Sear the meat on high heat on all sides till golden brown color has been reached.


Remove and set aside.

In the same pot over medium heat, add 4 tablespoons of oil and sauté the onions, celery, leeks, carrots and whole garlic till soft.

Add the chopped apricots and rosemary. Cook for 5min.

Return the lamb shank to the pot with the larger side down.

Add the liquids to pot and allow it to come to a boil.

Cover the pot with lid and reduce temperature to medium.

Cook for 90 min or until meat is soft and tender.