---
Roast Butternut, Cashew and Balsamic Salad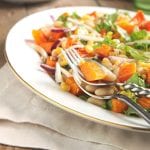 1kg diced butternut
Salt and pepper
1 tsp chilli flakes
2 Tbsp chopped fresh thyme
2 Tbsp olive oil
80g wild rocket
2 avocadoes, peeled and diced
150g salted cashew nuts
1 red onion, finely chopped
2 cloves garlic, crushed
4 Tbs honey
1/4 cup balsamic vinegar
Preheat oven to 180 degrees.

Toss together butternut, salt, pepper, thyme and olive oil. Roast until tender and beginning to char around the edges – about 45 minutes.

Whisk together red onion, garlic, honey and balsamic vinegar then pour over cooked butternut and toss together.

Leave to cool to room temperature.

Toss cooled butternut and rocket then place onto serving platter.

Top with avocado then sprinkle with cashews.