---
Sauté of Squid, Chorizo, Butterbeans, Tomato, Garlic, Lemon & Parsley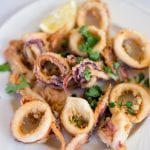 200g squid
100g chorizo, sliced
1 tin butterbeans, drained
3 tomatoes, blanched, peeled and roughly chopped
Juice of 1 lemon
100g unsalted butter
1 cup flat leaf parsley, roughly chopped (reserve a pinch for garnish)
2 cloves garlic, finely chopped
Heat a little oil in a hot sauté pan. Add the chorizo, when the chorizo begins to take on some colour add the squid followed by the roughly chopped tomato.

As the tomato begins to break down add the butterbeans, garlic, chopped parsley, butter and the lemon juice. When the butter has melted remove the pan from the heat and serve.

Adjust the seasoning with salt and freshly ground black pepper.