---
Roast Lamb with Caramelized Lemon and Mint Dressing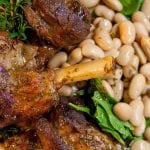 4 lamb shanks
Salt and pepper
2 Tbs olive oil
1 cup chicken stock
4 sprigs fresh rosemary
2 tins butterbeans, drained
200g baby spinach
For the dressing:
1/4 cup Selati brown sugar
1/2 cup sherry
1/4 cup lemon juice
30g butter
3 Tbs chopped fresh mint
Preheat oven to 180C

Season lamb with salt and pepper then heat oil and brown the shanks well.

Transfer to an oven dish then add stock, and rosemary. Cover with foil and roast for 1 hour.

Remove the foil, then roast for another 30 minutes until the shanks are tender and falling off the bone.

In a pan, add the sugar and cook gently until sugar is caramelized and golden.

Deglaze pan with sherry and lemon juice and stir to dissolve caramel.

Add butter and mint then remove from the heat.

Set the lamb shanks aside, then stir the butterbeans into the cooking juices.

To serve, place the spinach onto a platter then top with the butterbeans.

Stand the shanks on top of the beans then drizzle with the dressing.

Serve immediately.