---
Roasted Tomato & Fish Soup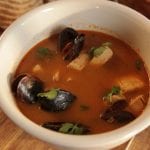 8.5 cups fish stock (keep warm)
6 plum tomatoes (quartered)
2 red onions (quartered)
4 red peppers (quartered)
1 leek (roughly chopped)
1 stalk celery (roughly chopped)
4 cloves garlic
2 sprigs of thyme
1 spring onion (chopped)
4 angel fish fillets (cubed)
1 punnet of cleaned mussels
10 tablespoons olive oil
Salt and pepper (to taste)
Optional garnish – (coriander / parsley)
Roast all the tomatoes, red onions, peppers, 1 sprig of thyme and 2 cloves of garlic in the oven at 350 degrees F for 30 min till caramelized with oil, salt and pepper (to taste) and 6 tablespoons olive oil.

On the stove top, sauté the celery with 4 tablespoons of oil, leeks and spring onion with 2 garlic cloves and 1 sprig of thyme. Salt & pepper to taste.

Add the fish stock, and reduce by half.

Add the roasted ingredients to the pot and cook for further 10 min

Blend the ingredients with a stick blender; pass through a sieve and strain if desired.

Add the raw angel fish and mussels, close the lid and poach for a further 6 min. Mussels will open up while cooking (discard any mussels that do not open).

Check seasoning. Garnish with chopped parsley / coriander.