---
Herbed Bread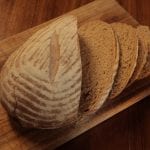 2 packets active dry yeast
2 cups water (110 degrees F/45 degrees C)
1 tablespoon salt
1 tablespoon dried basil
1 tablespoon dried oregano
6 cups bread flour
2 tablespoons olive oil
In a large bowl add the flour and create a well in the center. In the well add the yeast and mix with 90 ml of warm/ tepid water. Set aside for 5 minutes, or until mixture of yeast & water becomes foamy.

Once the yeast has activated, add the rest of the water (gradually), salt, herbs and combine well.

Knead dough for 10 minutes, until it is smooth and rubbery. Place in an oiled bowl, cover with a damp cloth or linen dish towel. Allow the dough to rise for one hour, or until the dough has doubled in size.

Punch dough down to release all the air. Shape into two loaves. Place loaves on a floured baking tray. Allow to rise again – double in size, about 30 minutes.

Bake at 350 degrees F for 35 minutes. Remove loaves from pan(s), and allow to cool on wire racks for at least 15 minutes before slicing.