---
Seafood Potjie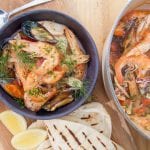 4 Tbs olive oil
1 fennel bulb, sliced
1 onion, sliced
1 garlic cloves, chopped
1 Tsp dried chilli flakes
2 Tsp tomato paste
250ml white wine
4 fresh tomatoes, chopped
Season with salt and pepper
400g calamari tubes and tenticles
350g prawns, deveined
500g mussels
1 Lemon
30g parsley, chopped
To serve:
Place a potjie pot over hot braai coals then add olive oil, fennel and onion then saute until tender.

Add garlic, chilli flakes and tomato paste then cook for two minutes.

Add the wine, then bring to the simmer and reduce by half.

Add tomatoes, season then lay the seafood on top of the tomatoes starting with the calamari, followed by the prawns then finally the mussels.

Squeeze the juice of a lemon into the pot, season again with salt and pepper, then cover tightly with a lid.

Cook on the fire for 15 minutes without stirring.

Uncover the pot, sprinkle on the parsley, then gently stir the potjie.

Serve potjie in deep bowls, with lemon wedges and flatbread.