---
Baked Tradouw Coconut, Pear and Berry Tarts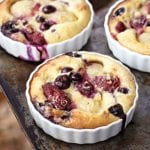 Poached pears:
1/4 cup muscadel, or more
1 piece stick cinnamon
Ground cinnamon to taste
6 ripe soft-eating white pears, peeled, cored and thinly sliced or quartered
Topping:
11/4 cups cake flour
1 Tsp baking powder
1/2 cup Selati Castor Snow
1/2 cup fine desiccated coconut
1/2 cup finely chopped almonds
4 eggs, beaten
11/2 cups cream
11/2 cups evaporated milk
2 tsp vanilla essence
1/2 cup blackberries or cranberries
1 cup canned cherries, drained (optional)
Preheat the oven to 200 °C. Thoroughly grease 6 small fluted ramekins.

To prepare the poached pears, heat the muscadel, stick and ground cinnamon in a saucepan and poach the pears until soft but not disintegrated. Add more muscadel if necessary. Set aside.

For the topping, sift the flour, baking powder and castor sugar together, then add the coconut and almonds. In a separate bowl, mix together the eggs, cream, evaporated milk and vanilla seeds or essence. Make a well in the flour mixture, pour in the egg mixture and mix to a smooth batter.

Arrange the berries, cherries and poached pears in the ramekins. Pour the batter evenly over the fruit, covering as much of it as possible. Bake for 25–30 minutes in the centre of the oven, then switch on the grill and bake for a further 5 minutes until the topping has browned slightly. Leave to cool slightly before serving.

Tip: Serve these delicious tarts with crème fraîche or whipped cream. Decorate further with fresh blackcurrants and mulberries and sift icing sugar and ground cinnamon over the top.