---
Steak On A Braai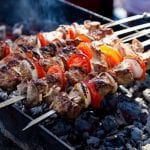 1kg Steak pieces
100g Yoghurt
3 tbsp Papaya Paste (pureed paw paw)
1 Onion (Fried & Ground)
2 tbsp Ginger/Garlic Paste
1 tsp roasted and crushed cumin seeds
1 tsp crushed red chillies
1 tsp Hot curry powder
1/2 tsp Tumeric
4 tbsp chickpea flour
4 tbsp oil
Salt to taste
Marinate steak pieces with papaya paste for at least 4 hours.

Mix steak pieces, onion, yoghurt, ginger/garlic, oil, turmeric powder, hot curry powder, red chillies, cumin seeds, chickpea flour and salt in a bowl.

After 1 hour you can put them on skewers and cook them over coals.

Garnish with sliced lemon, coriander leaves, green chillies and sliced onion.

Serve delicious steak bites with roti, bread, salad and tamarind/mint chutney.