---
Sausage and Bean Casserole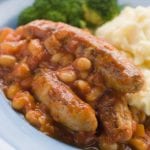 Sausage and Beans:
6 Soya Braai Sausages
1 tin Baked Beans
4 large tomatoes, pureed
1 large onion, finely chopped
Curry leaves
1 green chili, finely chopped
1 TSP masala
1/4 tsp turmeric powder
Salt to taste
Oil for sauté
Cauliflower Mash topping:
1 head of cauliflower
1 TBSP low fat cream cheese
1 TBSP butter
1/4 CUP grated parmesan
1 TSP roasted garlic
Salt and pepper to taste
Butter and chopped chives to top the mash
Sauté onions, green chili and curry leaves

Add the masala and turmeric and fry for a few seconds

Add tomato and cook down to a thick gravy for 10 minutes

Add the baked beans and cook on low heat for a further 10 minutes

Brown sausages in a little oil. Cut and add to the bean and tomato mix and cook on low for another 10 minutes.

While the bean and sausage mixture is cooking, boil the cauliflower for 6 minutes.

Remove from water and pat dry with paper towels while still hot.

Place all ingredients in a food processor or use a hand blender and blend ingredients together.

Remove beans and sausages and place in an oven dish. Spread mash over. Dot with butter and chives and place under grill to brown.

Serve with a green salad.